Hugo D. Ribot Jr., M.D., F.A.C.O.G.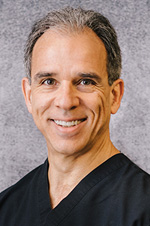 Hugo Ribot, M.D., F.A.C.O.G., A.C.G.E., is a Board Certified physician in the specialties of obstetrics and gynecology, and advanced operative laparoscopy. He is the founder and Medical Director of the Georgia Advanced Surgery Center for Women, and is the managing partner of Cartersville Ob/Gyn Associates. He has been a leading proponent and pioneer in laparoscopic and other advanced, minimally invasive gynecological surgery since the specialty's introduction in the late 1980s.
Dr. Ribot received his medical degree from the University of Miami School of Medicine in 1986. He completed his residency in obstetrics and gynecology at Emory University Affiliated Hospitals in 1990, receiving its first-ever annual "Best Laparoscopic Surgical Resident Award" bestowed by the American Association of Gynecologic Laparoscopists. In 1990, he joined Cartersville Ob/Gyn Associates, where he introduced numerous advancements in minimally invasive surgery that have become the gold standard of treatment for common gynecological and pelvic conditions. He was the first Ob/Gyn in the Cartersville/northwest Georgia area to provide women non-invasive sterilization; to perform laparoscopic procedures for hysterectomy, incontinence, endometriosis, pelvic organ prolapse and many other conditions; and to implement a true "same day discharge" protocol for all major and minor gynecological surgeries. The culmination of his career was the founding of the Georgia Advanced Surgical Center for Women in 2010 with practice partner Dr. Malcolm Barfield. It was the first surgery facility in Georgia to qualify for Center of Excellence in Minimally Invasive Gynecology status.
Dr. Ribot is a member of the American Congress of Obstetricians and Gynecologists, American Association of Gynecologic Laparoscopists, Medical Association of Georgia, Society of Elite Laparoscopic Surgeons, One Kilo Club, and the Bartow and Cobb County Medical Associations. He has served as the Ob/Gyn department chairman of the Cartersville Medical Center, as well as on the hospital's medical executive, peer review, credentials, and perinatal risk-management committees. From 2004 through 2014, he served on the Board of Directors of the Tranquility House Battered Women's Shelter.
He is a Clinical Assistant Professor in the Department of Obstetrics & Gynecology for the Medical College of Georgia, instructing 3rd year medical students in Ob/Gyn.
Born in Argentina and a U.S. citizen since 1983, Dr. Ribot is fluent in Spanish. He is a 1981 graduate of Dartmouth College. He has lived in Cartersville since 1990. He has been married to the former Karen Tenenbaum since 1988 and they have three adult children, Sydney, Max, and Sara Beth. His interests include traveling, cycling, tennis, snowboarding, hiking/backpacking, photography, reading, movies, and water sports.